Illuminate your darkness with one of Alchemy's superior English candle holders.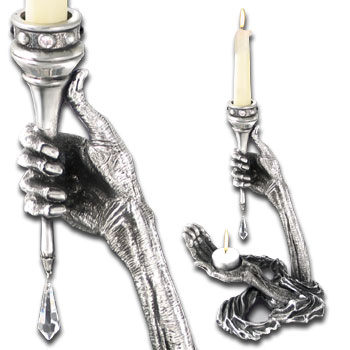 The Dead of Night Candlestick Holder has romantical morbidity with a subtle suggestion of the rising of the undead possessing a guiding light! It is decorated with jet and 'diamond' crystals. The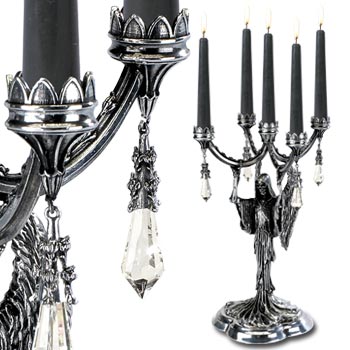 holder fits a standard tapered candle and tea light, with an overall height of approximately 10 1/4″ not including candles.
The Light of Death Candelabra is a must have centerpiece for any intimate social gathering.  An imposingly elegiac dark angel from the medieval netherworld of the departed, majestically and obediently stands seneschal of luminescence.  This elegant solid pewter candelabra holds five candles and is hung with four clear Swarovski chandelier crystals.
Our Sexton Dish has a black glass dish in a base of graveyard railings, capable of holding a 3.15"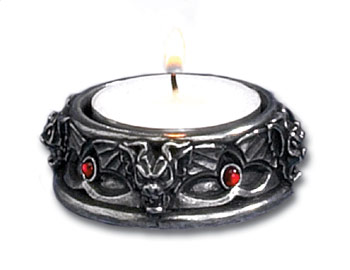 diameter candle.  This piece is ideal for ceremonies, gripping wine bottles, etc.  Then we have The Wallachian T-Light; a Transylvanian style candleholder; set with four red cabochons and completed with a t-light candle.  Also excellent for shedding light on ceremonies, reading, or whatever you might need luminosity for.