New Customers:

To register with Alchemy simply complete either the retailer or wholesaler form. After recieving your information we will activate your secure account and send you your login password.

Registered users can browse the online catalogues with price information and purchase online through our secure e-commerce trade catalogue.
Alchemy Carta:
Welcome to Alchemy Carta, creators of english pewter tankards, pewter flasks, giftware, Alchemy Gothic and custom business awards & incentives. Alchemy boasts many product ranges, a thriving licensing scheme and a professional commissions division. Alchemy Carta has been established since 1977 delivering fast bespoke giftware/award solutions for companies worldwide. More on our background here, or for the latest information see our BLOG.

Alchemy Carta sites www.alchemygroup.com : www.alchemygroup.co.uk : www.alchemyofengland.com : www.alchemypewter.com
Licensing Website : www.alchemy-licensing.com
Retail Promotions : www.alchemygothic.com : www.alchemyarca.com : www.thealchemystudios.com : www.sanctus47.com

Alchemy Carta: Pewter Tankards & Flasks. English pewter giftware and custom designed premiums & incentives made in the UK from the finest english pewter.
---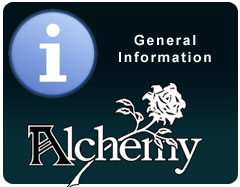 CORPORATE: The Alchemy Group, and what we can do for your business.
For trade customers, distributors and wholesalers only. Private customers wishing to view or purchase any Alchemy products should please proceed to Retail Shopping.
Home: Alchemy General Information & Services section:

To contact Alchemy Carta, to place an order or register as a new customer, to look for jobs, find the latest news or a distributor of Alchemy's pewter products, etc, please look through the selection below.
A registered customer of Alchemy's can instantly access all of our latest and up-to-date product catalogues/catalogs and prices here, online and easily, quickly and efficiently place their trade and wholesale orders, 24-7, for immediate office-hours processing. There are various, convenient online payment options available for anyone that does not yet have a credit account with Alchemy and which include all major credit cards, and very soon to be added will be PayPal and Google Checkout™.
If you are not already registered or do not have a trade account with Alchemy, you can easily register here by completing a straightforward, two-page online form, and your account confidentially applied for. One of our accounts executives will very quickly come back to you to discuss your proposals and ideas further.
Trade & Wholesale Enquiries : NEW CUSTOMERS
If you would like to consider selling and perhaps stocking, distributing or importing any of Alchemy's UK-made products, from gothic jewellery, accessories, T-shirts, giftware and lifestyle products, (including traditional pewter ware such as pewter hip flasks, tankards, quaich bowls, goblets, sewing accessories, wedding and Christening gifts, etc), anywhere around the World, you will simply need to complete our simple online form. It is a good idea to check our World Distribution map to assess the availability of dealerships in your area.
If you feel that there is a business opportunity to work with Alchemy in your area, and you are not already registered or do not have a trade account with Alchemy, you can easily register online here by completing a straightforward,two-page form and apply for your account in full confidence. Once submitted, one of our accounts executives will very quickly come back to you in person to answer your queries, discuss your ideas and proposals and offer their full assistance.
A simple chronological list, including all venue details of the trade shows, special events and public events around the World, at which Alchemy will be showing, attending or participating in some significant way. Further details of any of these can be got by enquiring directly with Alchemy using any of the methods detailed in our contact details.
The Alchemy weblog is the fastest and most direct way of keeping-up with all important product, developments and events news, etc. This blog is updated virtually daily with all announcements and information, including images and links, which might be significant to some or all of Alchemy's customers and fans everywhere. Enquiries and comments regarding any item which might, (or might not!), appear within the Alchemy blog will always be welcome.
The Alchemy Press website is a convenient, virtual news agency where all important Alchemy product and event reports and announcements can be found, for the benefit of editorial staff everywhere. Most features include high quality images and are all available as downloadable PDF's. Contact details are also displayed here for our Press Agent, where elaboration can be sought and further enquiries made.
Full contact details, including postal addresses, telephone and fax numbers and email addresses for all departments can be found here.
---
Products

Below is a complete list of all the branded ranges and collections of pewter & silver jewellery and giftware that Alchemy produce. These pages are for trade customers, members of the public wishing to buy an Alchemy product should click here to find a retailer.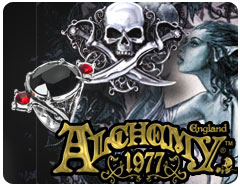 Alchemy1977 / Alchemy Gothic
Alchemy's flagship, and most famous brand and product collection is its continually developing line of Alchemy's pewter, alternative fashion jewelry, pewter giftware and genre-defining designer lifestyle products known as Alchemy1977. For many years this was branded as Alchemy Gothic, which persistently remains its best known monica and a significant registered trade mark, though now this would rather misrepresent the range's much wider and more varied styling. Alchemy Gothic now refers more specifically to Alchemy's prolific and definitive development in 'gothic', fantasy, supernatural, legendary and historical artwork and illustration. Previous to this and going back to around 1980, the Alchemy pewter jewellery collection was known as Alchemy Metal-Wear. These metamorphosing brand name variations have, of course, been hinting at the history of Alchemy and the brand's various evolutionary stages since its original conception in 1977.
The Alchemy1977 product range is now a vast and extremely varied collection of uniquely imaginative, 'alternative', or 'eccentric' jewellery, personal and fashion accessories and lifestyle products, and which fill a stylish 'coffee table', magazine-type colour catalogue, published once a year, every September followed by its Spring supplement of new additions each February. The catalogue is available to the public from Alchemy stockists or, directly from Alchemy by mail-order by completing this form. Trade, Distribution and Wholesale customers will receive a complete trade set of Alchemy's printed catalogues once an account has been opened.
The categories covered in the Alchemy 1977-Alchemy Gothic catalogue are divided into Jewelry & Personal Accessories, Printed Products and 'The Treasury', (Giftware, Decor and Lifestyle Products:.
Jewelry & Personal Accessories include Pendants, Chokers & Necklaces, Rings, Earrings, Ear Hoops, Ear Cuffs & Ear Studs, Bracelets, Bangles and Wrist straps, Shirt Accessories (Cufflinks, Shirt Buttons & Neck Ties), Buckles and Jeans Belts, Wallet Chains, Watches, Hair Accessories (Hair Slides, Hair Combs, Hair Bands, Hair Clips, Hair Pins & Hair sticks), Leather Bags, Handbags, Purses and Wallets.

Printed Products includes Short-sleeved T-shirts, Long-sleeves, Hoodies, Vests and Skinnies, as well as Hats and Headwear, (Beanies, Bandannas and Baseball Caps), Flags, Patches, Posters, Metal Signs, Calendars, Bedding (Duvet Covers & Pillow Cases), Stash Tins, etc.

Giftware (The Treasury), includes: Goblets, Chalices & Grails, Glassware, Wine Glasses & Wine Accessories, Absinthe Glasses, Absinthe Spoons & Accessories, Intimity Glasses, Beer Tankards & Ale Glasses, Pils Goblets, Shot Glasses, Flasks, Plates & Dishes, Cutlery, Mirrors, Photo Frames & Picture Frames, Games, Playing Cards & Card Boxes, Crystal Balls, Boxes & Caskets, Mobile Phone Charms, Clocks and Sand Timers, Petrol Lighters & Disposable Lighter Cases, Ashtrays and Cigarette Cases, Walking Canes (& Cane Flask), Men's Grooming and Shaving Equipment (Razors, Brushes & Shaving Bowl), Skulls, Candle Sticks, Candelabras, Sconces, T-Light Holders, Hurricane Lamps, Oil Burners, Compact Mirrors & Hand Mirrors, Black Roses, Desk Sets, Leather Ring Binders, Leather Organizer Covers, Book Ends, Quill Pens and Ink Pots, Gear Knobs, Wall Mounts and much more.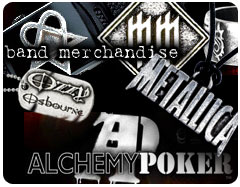 AlchemyPOKER (officially licensed band merch)
AlchemyPOKER was the first of their product ranges to be created and effectively, the one that launched Alchemy, in 1977 amidst the punk revolution. This began with a small and very primitive collection of hand-crafted (made by punks!), lead-based (long-since outlawed), generic punk 'anti-jewellery', (Dustbin Lid, Toilet Seat, 'Spit', etc), including a few bootleg band pieces such as Sex Pistols, Motorhead and Grilshcool pins. This soon developed into officially commissioned metal concert merchandise for bands such as Rainbow and Whitesnake and leading on to Guns 'n Roses and Metallica, etc at the height of metal's supremacy in the 80's. Since then, AlchemyPOKER has designed and produced its unique range of officially licensed merchandise, which includes pendants and necklaces, chokers, thongs, Cuban chains, dog tags, rings, pins, wallet chains, bracelets and wristbands, buckles, web belts, utility belts, mobile / cell phone charms, trigger tags and key rings, for most of the significant bands in the music scene.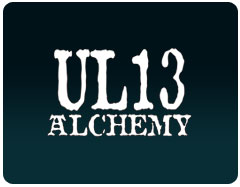 Urban & Rock ní Roll - Alchemy UL13 accessories
Alchemy UL13 is a brand new range of men's accessories, consisting of pendants, chokers, dog tags, bracelets and wristbands, rings, wallet chains, belts and buckles. The theme of this collection however, is thoroughly male and based on iconic, retro and tattoo imagery such as 1940's and 1950's pin-up girls, poker cards, dice and gambling, tribal, dragons, blades and the like, but with a distinct Alchemy flavor and quality. UL13 appeals to discerning bikers and skate-boarders, festival goers and rock music fans from traditional rock 'n roll to hardcore metal and garage punk. This jewelry collection has come about following the very highly successful UL13 series of artwork and graphics from Alchemy, resulting in many great licensed products from metal signs to vintage shorts and urban clothing.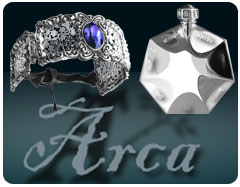 Boutique & Gift Shop Eccentrica - Arca collection
Arca is a very choice selection of the most bizarre and impressive, eccentric pieces of Alchemy's fashion jewellery, accessories and giftware taken from its '1977' catalogue, but presented in a thoroughly different manner designed to impress the most sophisticated and critical of clients. Arca will enable anyone familiar with the Alchemy brand name to see the style, craftsmanship and its appeal in a totally new light, and for those who are not familiar, will introduce it into the mainstream market as a rare and impressive discovery.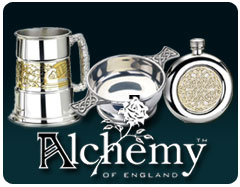 Traditional Pewter Giftware - Alchemy of England - Sheffield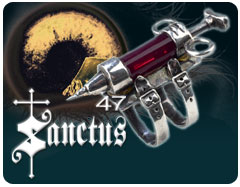 Silver, Limited Editions & Custom Work - Sanctus 47 & Rara 9 silver, Alchemy Studios & the Elegy Brand Furnishing Company
---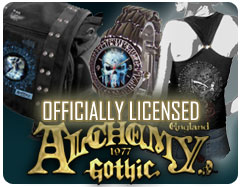 Licensing

The famous collection of Alchemy Gothic artworks, paintings and graphics is a vast resource of superior and popular images covering several cult genres; Medieval and Victorian gothic; the supernatural and occult; astrology and divination; myth, magic, legend and fantasy.
Alchemy Art, Concepts and Product design partnerships.
Alchemy Licensing:
'Alchemy Gothic', 'Alchemy England', 'Alchemy UL13' and 'A7 - Alchemy Licensed Designs' are all brand names for Alchemy licensed products available around the world. There are now hundreds of terrific, Alchemy gothic-style products of all descriptions, and all using AlchemyGothic art, designs and concepts.
Licensing elements of Alchemy's artworks, designs and concepts is easy. You may have a great product or service that we could work on together! If so, why not propose your project to Alchemy Licensing?, at: licensing@alchemygroup.com

Alchemy Studios are the creators of all the original Alchemy Gothic material and Intellectual Property. Alchemy Licensing, (a part of Alchemy Carta Ltd.), is therefore legally entitled to license the use of this Property to third parties in private, licensed partnerships, while remaining its exclusive copyright holder.
'Alchemy Gothic' is the brand name of Alchemy's trademark gothic-style designs, characters and artwork, etc. All licensed products based upon this source are branded under one of Alchemy's brand names, the most common of which are 'Alchemy Gothic', 'Alchemy England', 'Alchemy UL13' and 'A7 - Alchemy Licensed Designs'. All these brand names and trademarks of Alchemy represent different aspects of their distinctive, gothic and contemporary style designs, artwork, and characters etc, and are available under license to Alchemy. 'Alchemy 1977' is Alchemy's own exclusive-products brand name and is therefore not available for licensing purposes.
Much of Alchemy's gothic artwork and images can be viewed online in the Alchemy Gothic Art Gallery: www.alchemygothic.com/alchemygothicart.html; licensees and commercial partners will be able to view the whole Library, on application. Alchemy's own manufactured products, currently available in the Alchemy1977 Catalogue, can be seen at: www.alchemygothic.com/alchemy_gothic_catalogue.html.
Alchemy Licensing, the Licensor, is fully and actively supportive of all of its Licensees. Alchemy Studios will do all that is reasonably possible, and in good time, to advise and work with Licensees, providing them with all appropriate images/designs, etc., prioritizing speedy approvals and helping them to create amazing, unique, highest-quality products and to meet their marketing deadlines.

Alchemy Licensed Designs
The Alchemy brand name is, without doubt, the World's most famous and best established in the genre and, has by far the biggest library of art, design and concepts in this infinitely-popular niche market of fantasy, gothic and supernatural genres. There is just no branded competition…
Established in England over 30 years ago, (1977), against the backdrop of rock festivals, heavy metal, punk and goth music, with bikers and alternative fashion, fantasy and mythological role-playing games, medieval and renaissance fairs, historical-fantasy & occult novels, movies and comics and a quenchless fascination with the supernatural and traditional horror. Alchemy are the 20th/21st century's original revivalists of the gothic genre, reinventing, reintroducing and then popularizing the authentic Medieval, Renaissance and Victorian styles and traditions back into the lifestyle-market place.
Alchemy are famous for their in-house designed and manufactured, gothic and stylized contemporary pewter jewellery, accessories and giftware, plus a treasury of other diverse creations and their unique and distinctive, authentic art and design, all produced by skilled craftsmen, in England. With a database library of many hundreds of original and popular illustrations, images, designs, background stories and characters in Alchemy's uniquely recognizable style, associate Product Designers have a 'gothic treasury' of authentic material to exploit and develop into virtually any consumer commodity.
Alchemy Licensing is managed, marketed and supported entirely in-house by Alchemy's own small, dedicated team of passionate, product-aware and licensee-friendly staff. Based within Alchemy Studios UK HQ, a generous, considerate and prompt support to Licensees is assured. Product Design and Development is, whenever possible and if requested, advised and assisted by Alchemy's own UK creative department, Alchemy Studios. Alchemy want to be represented only by the best possible products!
Marketing Support and promotion for all Licensees and their products is incorporated into Alchemy's sales & marketing strategy within their highly successful website, catalogues, literature, email campaigns and at Worldwide trade shows. Together, Alchemy and their Licensees build a uniquely distinctive, highly respected and commercially groundbreaking phenomena. Perhaps you might also join us?

Products licensed by Alchemy so far include:
Silver Jewellery, T-shirts, Fashion Apparel, Vintage Shorts and Urban Apparel, Leather Jackets, Hats, Caps & Bandanas, Mobile Phone Downloads-(Screen Savers & Greetings), Bedding & Duvet Covers, Throws, Bags, Purses & Backpacks, Clocks, Watches, Stickers, Stash Tins, Playing Cards, Trading Cards, Tattoos & Temporary Tattoos, Embroidered & Woven Patches, Greetings Cards, Framed Prints, Candle Tins, Drinks Coasters, Posters, Desk Calendars & Wall Calendars, Journals & School Stationary-(Ring Binders, School Diaries, Exercise Books, Folios, Lever-arch Files, Labels, Pencil Cases, Backpacks, etc), Postcards, Puzzles, Poster Flags, Leather Belts & Wristbands, Guitars, Guitar Picks, Guitar Straps, Guitar Pick Guards, Pool Cues, Darts & Dart Accessories, Stickers, Refillable & Disposable Lighters, Key Rings, Button Badges, T-shirt/Fabric Transfers, Mobile Phone & IT Device Skins and Covers, Wallets, Resin Giftware & Interior Décor-(Fairies, Mirrors, Candlesticks, Misters, Fountains, Boxes, Statues, Wall Hangings, Lamps, Incense Burners, Goblets, Bowls, Planters, Books & Binders, Picture Frames, etc), Candles, Framed Canvas Prints, Chests, Clocks, Mugs Night Lights, Greetings Cards, Bookmarks, Towels, Blanket Fleeces, Ceramic Tiles, Murals, Cigarette Cases, Ashtrays & Smoking Accessories, Enamelled Metal Signs, etc, etc.

Please make all enquiries to the Licensing Secretary at Alchemy Licensing:
Alchemy Carta Ltd., Hazel Drive, (nr Fosse Park), Leicester, LE3 2JE England.
Telephone: +44 (0)116 2824 824 Fax: +44 (0)116 2825 202 Email:licensing@alchemygroup.com
Alchemy Licensees Index
Applying for an Alchemy License
---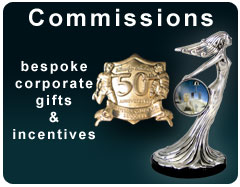 Commissions

Select either Corporate or Private
Alchemy manufacture corporate gifts & incentives anything from a one off award to a volume run of key rings.
Alchemy is totally in house from concept, design to manufacture and delivery.
Alchemy specialize in the fine English Pewter, however we utilize other materials such as crystal, glass, stainless steel, copper, gold/silver plating/resin. Alchemy wins where most others fail by being totally unique in the way we work with our clients. Whether it be an award or a traditional Scottish quaich bowl, we use our expertise to create a totally bespoke piece that never fails to impress.
The Alchemy Commissions division are committed to providing a service that is undoubtedly second to none. Throughout the design process we are constantly listening and re-evaluating the client's needs to ensure that we have achieved their requirements.
As well as creating a totally bespoke and unique piece, Alchemy also produce OEM stock, i.e. we will add your brand onto, and even customize any of our existing, generic pewter giftware, whether it be a traditional pewter hipflask, a pewter tankard or one of our unique, contemporary Q-Bic flasks. There are many ways in which Alchemy Of England can personalize a piece by engraving, embossing, or adding cast components and badges, etc.
Alchemy recently manufactured the Manchester United Busby Babes 50th Anniversary collector's set, which, as always, was completed in house here in England. The set comprised of key a ring & pin badge, which were displayed in a presentation case embossed with the gold Busby Babes logo. These have already become highly desired collectors items.
Some of the most prestigious awards and presentations have recently been designed and produced by Alchemy, in England. Alchemy has manufactured awards for many big names – Bradford and Bingley, Cosmopolitan, Virgin, Monty Python, 3663, the Nigerian Government, etc, to name but a few! These awards are usually, (though not always), predominantly made of fine English pewter, often with the addition of a glass, marble or other contrasting material addition. The awards have either been cast in English pewter, in Leicester, or have been hand-fashioned from sheet pewter in our Sheffield factory, and are often complimented by other materials such as crystal, glass, enamels, gold plating, etc..
Alchemy is World renowned for its gothic jewellery and gothic giftware for the alternative lifestyle, and export internationally, covering every continent, satisfying every type of retailer - such as shops, mail-order/catalogue houses, internet/web shops, market stalls and boutiques, as well as supplying distributors, everywhere. This Alchemy Gothic/1977 jewellery and accompanying gothic giftware can be found in the most unlikely surroundings, with some of our chalices and goblets even being used on a regular basis in Churches!
All we need to produce the layouts for you is an idea of the product you would like us to design; for example - pendant, key ring, goblet, pin badge etc.
We will then require a simple logo and the Alchemy artists will get started. We can usually turn around design ideas within 48 hours and will come back to you with product proposal visuals and cost estimates to suit your deadline.
Once the client has approved the layout supplied by the Alchemy designers we would move to the sample. A sample key ring for example would usually take 3 – 5 days. We would manufacture the sample and send out different samples in varying finishes.
As soon as the sample is approved we will manufacture the approved key ring. 1000 key rings would take between 7 – 10 working days.
Lets get started!
Email me, Marnie, - Commissions and Sales Manager - at: marnie@alchemygroup.com . I would be very happy to discuss any queries or ideas you might have.
---
RETAIL SHOPPING

Please select from below from our branded ranges and collections of pewter & silver jewellery and giftware. These pages are for retail customers..
Alchemy Carta site Privacy Policy & Full site index